Weekly Meal Plan #35
Another week, another meal plan. Although it went quickly last week was a long old week. Edith's "mama" stage is in full swing and I'm exhausted. I've got lots of work to get on with but little time to do it. Edith is also wanting to spend time with both of us. Basically we are all in need of the Easter break. Only 2 more weeks to go!
Last week's #mealplanningmonday saw 13 link ups. There are some great meal plans so make sure you click back to read through those and read through this weeks too.
Kirsty
and I would love you to link up and you can do that below.
Don't forget to grab a badge.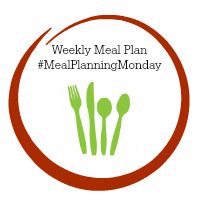 As for our weekly shop, my husband was in charge this week. He ventured to Lidl and then we topped up with ASDA as we were missing a few bits. The total shop came to £28.12. Yay for being under budget. You know the drill by now, subscribe to my
newsletter here
and
my Pinterest board
here.
This weeks meals:
Lasanga
Chilli quesdilas
Ham & mushroom pie
Mushroom & cream cheese pasta
Homemade fish cakes with homemade chips and mushy peas.
What's on your menu this week?