Weekly Meal Plan #32
Happy Monday! And happy first wedding anniversary to my husband and I. We've been married a year but scarily happy 8 years together. My husband pointed out that we've been together for a third of my life. That's a little bit scary. Anyway we popped out for breakfast yesterday morning baby free, thanks Mum, to celebrate. And tonight well, we're going to sit and watch The Walking Dead in our wedding outfits, because we are cool like that haha!
Anyway you're not here for chitchat your're here for meal plans and last week
Kirsty
had rather a lot join up, 21 in fact. That's pretty darn amazing, hoping it can be beaten this week. I loved the look of
Simply Cornish's Chicken Continental.
You can link up below.
Don't forget to grab your badge for the post too!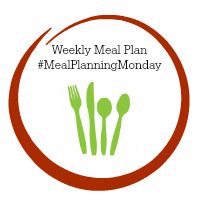 On to our meal plan and weekly shop. We shopped at Tesco as it was easiest and it came to a grand total of £34.30. Eeek £4 over. Next week we will be under budget! We did need a couple of sotre cupboard bits which always bumps things up.
As always you can subscribe to my newsletter (which I will send out this week, last week was hectic!) and for all the
inspiration
behind our meals head over to my Pinterest board.
This week we're eating:
Steak & Skinny Texas Cheese Fries (they are the best thing ever!)
Hawaiian
Pitta Pizzas with Roast Veg Couscous
Roast Dinner
Chicken & Veg Fried Rice
Crispy Fish with Sweet Chilli Noodles
What's on your menu this week?