Weekly Meal Plan #29
Another week has gone by and it was a pretty long one. Edith came down with conjuctivitus so we stayed in most of the week as her eyes were so sore. But she's on the mend and we're looking forward to the week ahead. Mainly because my birthday is on Thursday, yaaay! Expect lots of cake. I do have quite a few blogs posts going live this week so make sure you check back everyday.
I'm so really pleased to say I've joined up with the very lovely Kirsty from
Hijacked By Twins
for #MealPlanningMonday it would be amazing if you could join with us. Or if you don't meal plan yet and need some inspiration then head over to the blog hop link where you'll find lots of great meal plan ideas.
Make sure you pop a badge on your post. grab the code below.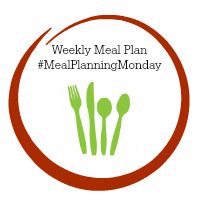 My husband was in charge of this weeks shop as I was on a shoot. I had written him a list but I forgot to give it to him, luckily he's memory is pretty brilliant so he only forgot a few bits which we managed to pick up later. He did the main shop at Tesco and we picked a few bits up at ASDA on the way to my Mum's.
The total shop came in at £27.39. I might need to pick up some fresh fruit in the week depending on how quickly it gets eaten but we will still be on budget which is what we like to see.
A lot of you asked about the caramel chicken. I'm going to feature a recipe for it soon so make sure you pop back for that. It's such a simple but delicious dish. It's just brown sugar heated to go like caramel which soy sauce and a few other ingredients. It then coats the chicken and tastes incredible!
So I guess you'll want to know what this weeks meals are:
Slow cooker caramel pork with stir fry.
Pork wraps with salad & homemade chips.
Chicken nachos.
My birthday tea.
Taco pitta pockets.
What meal do you like the look of? What's on your menu this week?